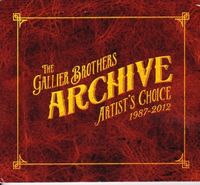 Review on the all instrumental collection representing three decades of original compositions for fretted dulcimer and ensemble by The Gallier Brothers.
This is the CD I would like to have heard if I were starting my life over as a dulcimer player in order to be instilled with the belief that the mountain dulcimer is only limited to the imagination of the player.
Archive is an excellent "sampling" of the musical life of Gary and Les Gallier and their vision for the music as played and written on the mountain dulcimer. It is 78 minutes of original music encompassing a myriad of genres including jazz, rock, Caribbean influence, classical, Celtic, and yes, even traditional instrumental folk!
After seeing his first dulcimer, Gary found some plans and built one...out of quarter inch plywood! As his building improved, his playing improved, while his hand-me-downs went to Les. Rather than focusing on learning the repertoire heard in most dulcimer gathering jam sessions, they set out to create their own music on the dulcimer. Gary's major influences being Doc Watson, Sam Bush, David Grisman, and Bela Fleck, he was drawn to flat-picking as a primary style of playing, while Les pursued a fingerpicked style. In time, both Gary and his brother Les went on to earn the title of National Mountain Dulcimer Champion at the Walnut Valley Festival, in Winfield, KS, 1987 and 1991, respectively.
Creating their own music may have isolated them from other mainstream dulcimer players, but the Gallier brothers stayed true to their focus and mission. The Archive is a testament to that steadfastness of creating dulcimer music that moves beyond traditional to progressive acoustic music. When asked about how their style of playing evolved, Gary stated, "We didn't have any (dulcimer players) influence at all, but drew from the music we grew up with. Other instruments...guitar, mandolin, and so forth...played by our friends and heroes."
The opening song, Gypsy Wind is a great example of this unique approach to the dulcimer. The track begins with the sound of a lonely wind, the dulcimer comes into this sound accompanied by a fiddle drone and then the dulcimer breaks into a fast flat-picking tune that is reminiscent of the great guitar flat pickers and the signature of Gary Gallier's playing. This is the playing style that comes from someone considered a trail blazer of flat picking on the mountain dulcimer. However greatly I respect and admire Gary's precision flat-picking and Les' rhythmic fingerpicking, it is the ensemble approach I find most pleasing as a listener. Filling out the tune with an ensemble appropriate for each tune brings this album to an acoustic lover's dream. As a professional drummer, Les brings his talent to shine on these cuts with a variety of percussion, as well as the harmonies and back-up from both Les and Dave Wilson on cello, mandolin, guitar, and violin.
I also love the imagery each piece brings to the listener. Black Cats will make you look around your shoulder to see if the cats are approaching you from behind your chair! Happy Habanero will have you rocking your head side to side, tapping your foot, and indeed, having happy thoughts, and in stark contrast, Gitano Solitario will bring you down to the darker side, but Riff and Roll will have you back up dancing!
I am pleased that the Gallier Brothers released this compilation disc. I have all their previous CDs (Race To The Gate, 1989, On The Wing, 1993, Craft of Kin, 2001 and Three Wire Choir, 2012) so it is great to have their body of work all on one disc that takes the listener on a 25 year musical journey crafted by these innovative dulcimer players.
Having composed only a handful of tunes in my music lifetime, I still find the most incredible achievement is this represents only a sampling of the enormous body of original work that the Gallier Brothers have contributed to the dulcimer community. When asked "why all original compositions" his answer was "Our Dad always said make your mark for who YOU are. It was never a "decision" to express our own vision. It was just a natural feeling thing to do. We didn't see a reason to do cover tunes."
As a fellow dulcimer player, I am most grateful that the creative achievements of two great dulcimer players are now "Archived" as an inspiration for all dulcimer players!